Why AN Ecohog Windshifter?
The Ecohog Windshifter unit allows customers to incorporate air separation into new or existing processing configurations that experience contaminates in the materials. The technology provides an alternative to manual sorting which is both exhausting and expensive.
In the UK and Ireland this is now necessary with the customers being legislatively driven to produce higher-grade products. In continental Europe the demand for this requirement has been for much longer and in excess of 10 years. Worldwide there is a greater focus on minimising waste, reducing what goes to landfill and recycling generally. Therefore the need to integrate efficient waste separation and processing technology is a growing global concern.
The Ecohog Windshifter has been designed for both mobile and static installations incorporating low energy consumption, low noise levels, and low dust emissions whilst meeting the latest law regulations and promoting the environment at a more affordable price.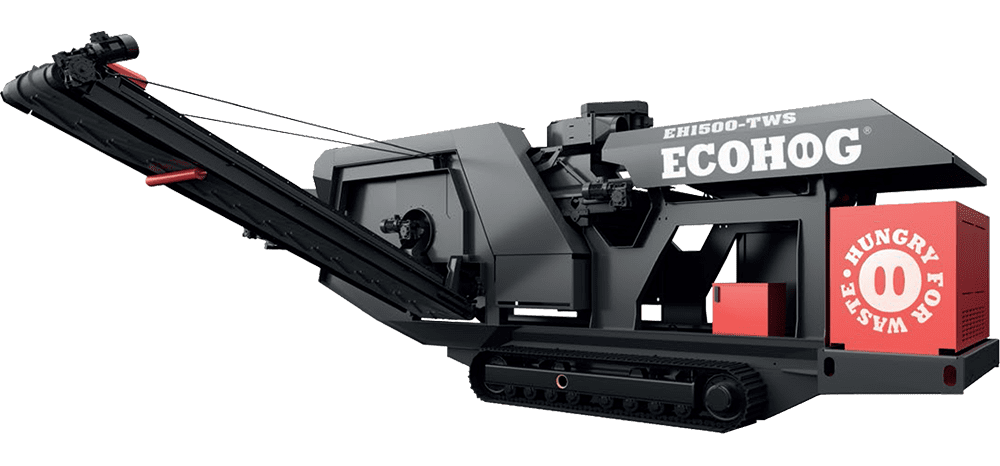 BENEFITS OF USING WINDSHIFTER TECHNOLOGY:
---
Proven reliability
Precision settings to suit application
Separated & Improved materials in the processing cycle
Increased production
99% separation efficiency depending on the material
Protects other equipment in processing cycle – e.g shredders
Low maintenance
Low operational costs
Low dust emission due to controlled and recirculated air flow
Reduced labour costs
Value for money & quick return on investment
Suitable Applications
---
Based on controlled air movement the Windshifter is a recycling technology with a proven operational reliability. Windshifters can be used to separate and upgrade a variety of waste streams such as:
Construction and Demolition Waste (C&D)
Commercial and Industrial Waste (C&I)
Compost, Biomass & Wood
MRF Glass Cleaning
Incinerator Bottom Ash
Refuse Derived Fuel (RDF)
Solid Recovered Fuel (SRF)
Electronic and Electrical Waste (WEEE)
By using controlled air, materials are separated according to their density and shape. To be effective two opposing densities are required referred to as heavy and light.
HOW THE ECOHOG WINDSHIFTER WORKS…
The Ecohog Windshifter is a combination of a VSD controlled airflow with acceleration belt or vibrating pan, and rotating drum.
The Ecohog waste separation process starts with feeding pre-sized waste onto an accelerator belt which travels into the Ecohog Windshifter where an air separator chamber is used to separate the heavy material from material that weighs less – lights. The materials are sped through a conveyor to a separating drum. The heavy materials then drop down the roller onto a transfer belt, stockpile or other mechanism that leads to further processing; while the lighter material is blown upwards by the air and dispersed into a bunker or onto a conveyor. The separation of the lighter particles from the heavier is achieved by adjustable air flow. In some applications heavies are also passed through a magnetic field to separate metals from other heavy material.
Ecohog Windshifter's are capable of processing a range of tonnage because of the precision settings. Each application differs, when we find out the bulk density of material we can advise on the throughput that can be achieved. Fraction sizes of 10mm – 300mm can be processed depending on bulk density.
We pride ourselves, that using our extensive experience and knowledge of the industry, each Ecohog is custom tailored to accommodate the customer's specific needs and process requirements.
Please contact us if you would like to discuss whether your application would be suitable for Ecohog and if so what likely throughput and output could be achieved.
Whilst the core Ecohog Unit is standardised, each is custom tailored to accommodate specific process needs and requirements. Auxiliaries are also available as required.