EH-81 Airhog
Vacuum Air Suction Separator
The Ecohog EH-81 Airhog is an air density (suction) separator system used within the Scrap metal, Wood waste, Construction and Demolition, Commercial and Industrial, and Municipal Solid Waste industries. It is designed for the removal of low value light weight fractions such as; paper, plastics and foil from applications including compost, wood and other waste streams.
The Ecohog Airhog incorporates a frequency controlled heavy duty fan, air hose and extraction hood. The extraction hood is positioned over a moving waste stream feeder belt. The light weight input material is blown through the extraction hood into a separation area, (sometimes a detachable sock or bin) and the remaining higher density material continues to pass on the conveyor belt to the required resting place.
A beneficial feature of using the Airhog on an accelerator feeder belt is the ability to adjust the direction and power. This results in greater control and separation efficiency consequently leading to better separation rates compared to conventional air blowers.
The Ecohog EH-81 Airhog is a standalone unit designed with forklift lifting points and lifting eyes for craning to ensure ease of movement. The unit can be designed to fit any conveyance system. There are many benefits of the air density separator one of the main ones is that it removes/ reduces the need for manual sorting, furthermore increasing production rates as there is less dependence on manual workers to carry out the job.
We have two types of air separators in our Ecohog air density separation range. Click here to find out more about the HSB-81 Airhog.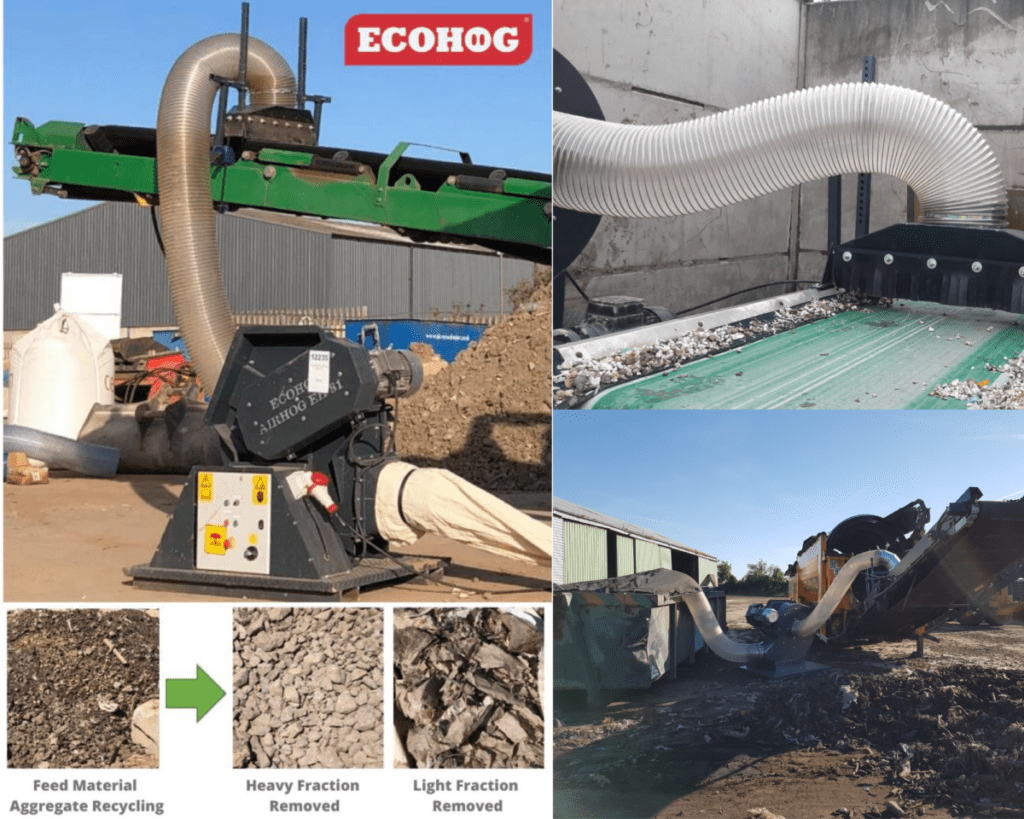 Check out our self powered HSB-81 Airhog