Clear and Transparent Irish Waste Policy required for recycling as contaminated recyclables are returned to Ireland.
Last month Ireland received back into their possession 160 containers of what should have been recyclable waste. The containers of paper and cardboard were being shipped to paper mills in China when they were intercepted at Rotherdam due to oxygen monitors tracing the presence of non-paper refuse such as plastics. Although the containers could have been separated at the paper mills the shipments where turned as the paperwork wasn't correct.
It is estimated that the return of the shipments to Ireland has cost the Waste Industry €500,000. Green Party Councillor Malcom Noonan said, "We are calling for a full investigation by EPA to establish the cause of these failures". Industry sources have stressed that the cost of processing green or mixed dry recyclable waste has increases by 30% because of contamination at source. This raises the question, Does the Irish Nation need to be become more aware of what they are putting in their bins?
Labour spokesperson on Energy, Sean Sherlock has called on Republic of Ireland Minister, Denis Naughten to make an "immediate intervention" in the country's waste recycling stating "Instead of a cost to the industry of €500,000, this sector should be able to wash its own face, without the need to penalise families around the country. The lack of a clear and transparent waste policy from this Government and not a recycling of old statements, means the problem is not simply going to go away."
So is it time to introduce penalties to stop people putting black bin rubbish into recycling bins or could it be the case where further education is required for people to fully understand what is recyclable and why only certain items are acceptable in certain forms for example rinsing food or liquid residues from containers before they can be recycled or that cardboard pizza boxes can never be recycled because they are contaminated with grease.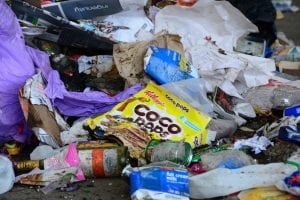 SO WHAT CAN BE RECYCLED…
• PAPER: Newspapers, magazines, junk mail, envelopes, paper, phone books, catalogues, tissue boxes, sugar bags, calendars, diaries, letters, computer paper, used beverage and juice cartons, egg
boxes and holiday brochures
• CARDBOARD: Food boxes, packaging boxes, cereal boxes, kitchen towel tubes and toilet roll tubes
• ALUMINIUM CANS: Drinks cans and empty deodorant cans
• STEEL CANS: Pet and food cans, biscuit tins and soup tins
• PLASTIC (PET 1): Mineral bottles, water bottles, wash bottles and dressing bottles
• PLASTIC (HDPE 2): Cosmetics, milk, juice, shampoo, household cleaning, detergent, window cleaning and bathroom bottles
• PLASTIC (PP 5): yoghurt, margarine tubs, rigid food packaging, liquid soap and fruit containers
AND WHAT CAN'T BE RECYCLED…
THE biggest offenders you can't put in your recycling bin include:
• Pizza boxes: Grease cannot be removed from the cardboard's paper fibres to be recycled as the paper fibres will not be able to be separated from the oils during the pulping process. Food is a major source of contamination in the various paper categories.
• Nappies and sanitary products
• Food waste
• Contaminated packaging
• Garden cuttings/soil
• Polystyrene (EPS)
• Liquids/oils
• Textiles including clothes and home furnishings
• Dismantled furniture
• Medical waste
• Glass light bulbs
• Batteries
• Electrical and electronic equipment etc anything that can contain a battery or a plug
Several Irish based organisations are working to encourage people to "recycle better" by promoting good recycling behaviour. REPAK have published their top ten tips to help.
1) Know what can go in your mixed dry recyclables bin (above).
2) Recycle more items from the bathroom, kitchen and other areas of the house.
3) Rinse food or liquid residues from containers and remove any plastic or metal inserts.
4) Remove inner packaging and flatten cardboard containers to help with the recycling process and to save space in your bin.
5) Do not place mixed recyclables compacted into boxes or bags into your recycling bin.
6) Do not put food waste or other compostable materials (such as garden waste, tissue paper and soiled pizza boxes) into your recyclables bin.
7) Anything with a battery or plug should not be placed into a household or business bin.
8) Clothes or shoes should not be placed into your recycling.
9) Batteries should not be placed into bins.
10) Know the correct collection day for your area.
For more information visit repak.ie
The Ecohog Product Range is suitable for separating a variety of applications. Get in Contact today!