Ecohog are very proud to have been in attendance at the DANI Awards, commended for export. The DANI Awards are Northern Ireland's Premier Digital Industry Awards, celebrating excellence within the digital sector. Celebrating expertise, talent and achievements of the digital, tech and creative industries since 2010, the DANI awards recognises the digital world is ever growing and ever changing. and
For businesses to stay relevant they have to keep up with the fast paced digital world, incorporating a digital strategy is a necessity for a business to stay relevant within their sector. Digital is now recognised as an integral cog within a business. The DANI awards aims to reflect this and to showcase the best talent throughout Northern Ireland.
Online Export Strategy Award
Ecohog were shortlisted as finalists for the Online Export Strategy Award in the Manufacturing and Engineering Category. The 2015 DANI Awards ceremony took place in Derry and on the night Ecohog received the award for export at the awards ceremony.
The award is great recognition for the Ecohog team's hard work and dedication to producing high quality products for customers globally. The award also recognises Ecohog's growth as a business over the last year.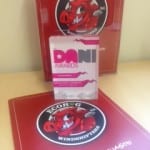 The DANI Awards have several categories, ensuring every business fits into at least one category. The awards are open to anyone in Northern Ireland whether they are a public or private company in the community or voluntary sector.
Congratulations to all the finalists and congratulations to everyone who received awards on the night. Well done to all involved in the organising of the Awards ceremony which took place in St Columbs Hall in Derry.