Ecohog Ltd is pleased to announce their partnership with reputable Eriez Europe for the supply of Eddy Current Separator units which are incorporated in the Ecohog HogMag mobile unit. Like Ecohog, Eriez are renowned for providing quality products on a global scale. Ecohog are happy to have gained this reputable company as a supplier and are looking forward to the future.
Eriez Europe
Eriez serves numerous industries worldwide, providing businesses with complete magnetic separation, metal detection, fluid recycling, feeders & conveyors, material handling equipment, and metal recycling solutions.
Ecohog Ltd is working in collaboration with Eriez Europe to provide the recycling and waste industry with a quality mobile unit integrating a vibrating feeder pan, magnetic drum and the Rev X-E Eddy Current Separator. The unique Ecohog HogMag is designed to achieve the highest quality separation of ferrous and nonferrous metals from residual fractions, making the HogMag the ideal solution for metal recovery, removing contaminants and increasing the value of materials.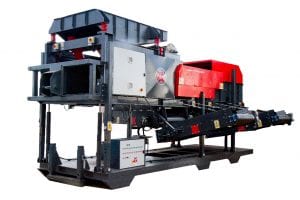 The Ecohog Hogmag unit is available as a mobile unit for ease of installation and use for customers, however the unit is also available as a static installation if desired. If you are interested in the HogMag products or any products get in contact today!
T- 02880761295
E- info@ecohog.com