Northern Ireland residents have reached the 50% recycling target ahead of the EU-set 2020 deadline. Statistics gathered by Circular Online and DAERA, 2019 have been combined to demonstrate Northern Ireland's recycling habits and noted the 50% recycling target has been reached 18 months ahead of the EU-set deadline.
Figure 1: Northern Ireland local authority collected Municipal Waste Management statistics annual report 2018/19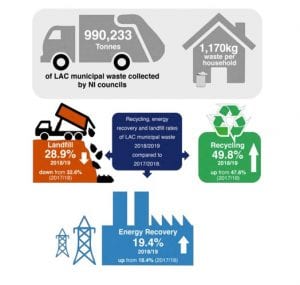 (DAERA, 2019)
According to BBC the recycling rate in Northern Ireland was only 10% when they were first collected in 2003. 17 years later NI has managed to meet the EU-set target through effectively recycling materials and reducing waste going to landfill.
Figure 2: An infographic detailing the aspired EU Targets for the UK by the end of 2020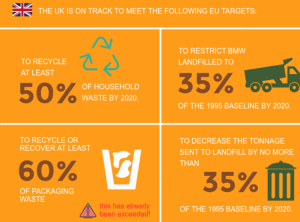 (Open Access Government, 2019)
With the rate if composting materials escalating, combined with materials such as metal, paper and plastic being recycled effectively, Northern Ireland's recycling rate continued to rise yearly. Between 2016 and 2017 there was 3% increase in the recycling rate. However, the introduction of Mandatory Food Waste Collection in April 2017 transformed Northern Ireland's recycling habits. The introduction of the brown bin to all Northern Ireland households has encouraged recycling at source from food waste, through to blue bin recyclable materials being more efficiently managed in households, ultimately minimising the amount of recyclable and compostable material entering the general black bin waste.
Owen Lyttle from the Department of Agriculture, Environment and Rural Affairs' (DAERA) announced CIWM's Northern Ireland Conference that 2019 figures indicate the country has reached a recycling rate of 50.6%. Between July 2018 and June 2019 a total of 50.6% of waste collected was reused and more than 870,000 tonnes of rubbish was collected by local authorities in the same 12-month period. In detail, 440,000 tonnes of the waste was recovered by dry recycling or composting and slightly over 240,000 tonnes was sent to landfill. The remainder of the waste, between 160-170,000 tonnes was exported for incineration or other energy recovery. The diagram below demonstrates the reduction of the amount of waste sent to landfill in Northern Ireland between 2006 and 2019.
Figure 3: Northern Ireland (2006/07 to 2018/19) KPIs (b) and (f)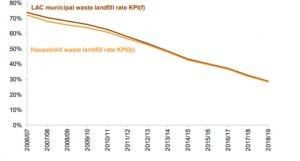 (DAERA, 2019)
Northern Ireland Council Collections
Northern Ireland's councils collected 265,181 tonnes of LAC municipal waste between April and June 2019, 2.9% lower than the 273,200 tonnes collected during the same three months of 2018. Household waste accounted for 88.5% of total LAC municipal waste. Fermanagh & Omagh produced the smallest quantity of household waste at 108kg, whilst the largest quantity per household was recorded in Antrim & Newtownabbey at 158kg.
The household waste rate for preparing for reuse, dry recycling and composting was 54.8% between April and June 2019, increasing by 2.2% from the same three months in 2018. Rates within the Council varied from 45.5% in Derry City & Strabane to 63.2% in Mid Ulster.
Figure 4: Local authority municipal waste rates by council and waste management group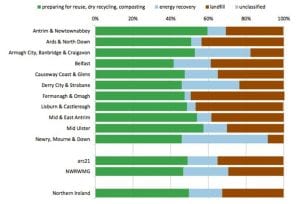 (DAERA, 2019)
The LAC municipal waste to energy recovery rate between April and June 2019 was 18.7%, increasing by 1.6% from the same 4 months in 2018. The highest rate was recorded in Newry, Mourne & Down at 40.9% and the lowest was 5% in Ards & North Down. Additionally, the latest quarterly landfill rate for household waste reduced to 24%, from 3.9% during the same three months of 2018.
Recycling rates to increase further
DAERA announced in June 2019 that £23 million was being invested in Northern Ireland to make recycling easier and to improve the quality of the materials being recycled.
A programme called 'The Household Waste Recycling Collaborative Change Programme' will support local councils over a three year period to transform kerbside recycling and Household Recycling Centre infrastructure and services within Northern Ireland.
The programme is intended to increase the quantity of recyclable materials collected, with the intention of raising awareness of the economic potential of recycling for the local economy. The first instalment of £5.9 million is being released in the current financial year (2019/20).
Meeting the EU-set target indicates that the people in Northern Ireland have taken small steps to change their behaviour. Significantly impacting the overall recycling rate whilst protecting and improving the environment with hopes to increase the reduction of waste every year. Overall, the recycling future of Northern Ireland looks bright.
Take a look at Ecohog's 7 tips on how to recycle better!