Ecohog join South West College Gold Apprenticeship Programme and are proud to announce that they are growing their workforce by employing two Gold Apprentices from the Omagh campus.
Gold Apprenticeship Programme
Turlough Mc Nally and Fiontann Mc Namee completed their GCSE's in June of 2018 prior to being awarded places on the Gold Apprenticeship course. The course offers students the opportunity to gain qualifications while working within the engineering sector. During the course they get not only the academic foundation but also the practical knowledge and experience of actively working in the sector. The course itself is also full of opportunities for the apprentices to broaden to academic degrees over a period of years.
During the first two years, the course runs a BTEC Level 3 Diploma in engineering alongside both NVQ Level 2 and NVQ Level 3 qualifications. The course offers a range of progressive skills for the apprentices to obtain, these include; designing on CAD Software, Hydraulics, Electrical Installation, Secondary Finishing, Electrical and Electronic Principles, PLCs, Mechanical principles, CNC machining, Maths for Engineers, Screening and crushing maintenance and Engineering drawing.
Ecohog apprenticeship duties
Ecohog assist the apprentices by giving them the right level of work based learning to nourish them for a prosperous long term career with Ecohog. Both apprentices are acquiring a range of skills in the Engineering sector. Fiontann undertakes various roles in the workshop including; plasma operative, band saw operative, preparing of fabricated parts for painting, welding and fitting. Of his time at Ecohog so far he says "I have really enjoyed my time here at Ecohog, learning the engineering trade and being able to have different jobs to do each day. Attending the South West College has also helped fill any knowledge gaps and will assist me in becoming a qualified Engineer.
Turlough also has a wide range of roles including; nesting, press operative, plasma operative, band saw operative, fit out, welding and installation and service on site. "Being a part of the Ecohog team has allowed me to explore different aspects of engineering and develop skills in areas where initially I wasn't confident.  I have always wanted to be an engineer and South West College have given me the opportunity to grow in the family business and eventually become a qualified engineer," said Turlough on his experience of the apprenticeship so far.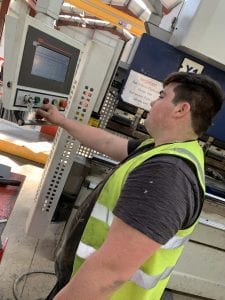 Comment from Tracey Mc Nally Director at Ecohog about the opportunities of how the Gold Apprenticeship Programme is very positive for all parties. "It's been a great benefit for Ecohog to be able to avail of young apprentices as we grow our company. The Gold apprentices have a good balance of study and practical work experience and are valuable members of the Ecohog Team, who will hopefully continue to thrive with us as they continue to develop their engineering knowledge and skills and future careers.
Visit the South West College website for more information on the programmes and courses available! If you need help with waste separation Contact Ecohog today!