Scrap metal is a multi-billion pound industry with many fellow industries such as engineering, manufacturing, construction, automotive and even food and beverage utilising recycled metals. However, worldwide we are still only recycling approximately 30% of scrap metals. Granted this rate is increasing but with investment into the best metal recovery equipment this could be accelerated as Ecohog help customers make 'tin' from scrap metal.
The ever growing Metal Recycling Market was valued at 346.86 Billion (USD) in 2018 and is expected to increase with a compound annual growth rate of approximately 8% reaching 434.55 Billion (USD) by 2023. It is estimated 40% of worldwide steel production is using recycled steel and every year, around 400 million tons of metal are recycled worldwide.
It is environmentally necessary to recycle scrap and unused metal to preserve natural resources as recycling emits less carbon dioxide and other harmful gasses. The growing complexity of various modern products and their material mix creates implications for recycling, which can be a restraining factor for this market. Ecohog are continually researching solutions to overcome these restraints, developing and enhancing their metal recovery range to ensure customers are supplied with high quality equipment to tackle various waste streams, in particular scrap metal.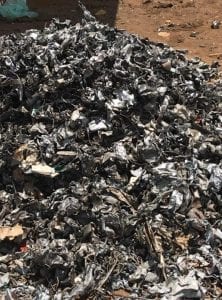 Why recycle Metal?
Metal recycling is cost effective when compared to extraction of new metals as over time, metal will never deteriorate or lose its properties and qualities, retaining its value. Metal recycling offers raw material for new products through efficient utilisation of resources and overall produces a lower carbon footprint than new metals. In addition to this recycling of scrap metals reduces the amount sent to landfill, an added benefit to scrap processors given the cost of landfill tax and duties and a major advantage to the environment as metals ca take up to 500 years to break down naturally.  Ecohog offer a range of metal separation equipment for customers to recover ferrous and non-ferrous metals including valuable metals such as steel, aluminium, copper, lead, nickel, tin and zinc to name a few. While ferrous metal contains some degree of iron, non-ferrous metal does not contain iron as a component. By Metal Type, ferrous segment accounted for the larger share with approx. 59% in the global metal recycling market with a market value of USD 1,62,667.4 million in 2017. Reflecting on these statistics, investment in quality metal separation equipment can administer profit margins for investors through reduction of landfill tax and the resalable value of the metal.
For more information on metal recycling check out Recyclemetals.org.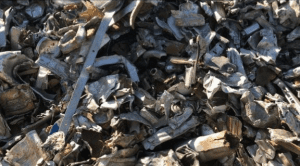 Ecohog help customers make 'tin' from scrap metal by supplying customers with products tailored to suit their material mix and applications. Ecohog's HogMag range include 5 main products that assist in the efficient separation of heavy metals from residual fractions. These include; THM ECS-2000, THM ECS-1500, the HM ECS-1500, the SHM ECS-2000 and the SHM ECS-1500.
The THM ECS-2000 is Ecohog's flagship product and market leader in mobile metal recovery. It features a vibratory feeder for even distribution of material composite, accompanied by a 2m wide high gauss magnetic drum to recover ferrous metal (FE) and an Eddy Current Separator to recover non-ferrous metals from the residual material. Ecohog also offer their EH-81 Airhog suction system as an on-board feature to increase the value of the output material by removing light fractions such as paper, foil, plastic bags and cardboard. Ecohog have designed a range of mobility features for the machine to withstand the rigorous environments of recycling. These include; on-board diesel generator, 3 foldable stock-piling discharge conveyors, air compressor and air lines for cleaning, hydraulic powerpack, heavy duty crawler tracks and optional fire suppression system.
If a higher volume of throughput is not required a mirror image of this unit is available as a 1.5m wide option, the THM ECS-1500.
The HM ECS-1500 is the original Ecohog site mobile ECS. It includes a vibratory feeder, 1.5m ECS and a magnetic drum separator. Not compromising on quality the HM ECS-1500 is designed to be a cost efficient alternative for the THM ECS-1500.
The site mobile machine is operational on a skid mounted frame with casters and hook lifting point for easy mobility around site. Once in position 6 hydraulically operated support legs, drop down to lift the machine into position at the required feed height. The HM ECS-1500 offers on-board diesel generator, 3 foldable stock piling discharge conveyors, air compressor and airlines for cleaning and fire suppression system. The HM ECS-1500 permits users to tailor their metal separation solution to their needs.
The SHM ECS-2000 is Ecohog's answer to the complications that can arise with static machinery installations. This standalone HogMag metal separation system is capable of high capacity waste processing whilst negating the requirements for planning permission and permits that typically come with static plant setups. It features the same vibratory feeder, high gauss magnetic drum separator and an Eddy Current Separator as the rest of the range and is typically supplied as 2m wide system.
Instead of crawler tracks or hook loader skid the SHM ECS-2000's heavy duty support frame has 6 adjustable height support legs and can be easily lifted and re-positioned around site. It includes a full access platform with stairs and a 10m residual product stock-piling conveyor as standard with a full range of optional extras. The SHM ECS-2000 is the evolution of static machinery offering waste processors a low cost system with many of the benefits of mobile machinery. Similar to the tracked version, if a higher volume of throughput is not required a mirror image of this unit is available as a 1.5m wide option- the SHM ECS-1500. The Airhog Suction System is now available on all HogMag ECS machines as an optional extra. In addition, the entire Ecohog product range is UL certified when required.
Continually developing the metal separation range Ecohog are excited to be launching a new Sister range to the HogMag. After 2 years of research, designing and testing Ecohog's new product will be available on the market in early 2020, so keep your eyes peeled!
If you have a waste sorting problem, regardless of how big or how small – Get in contact with Ecohog today for the ultimate solution!