Ecohog have launched their latest product the Airhog EH-81 air suction separator at the RWM show which is the leading recycling and water and energy waste management event in the UK. The Airhog EH-81 air suction separator is featured in conjunction with two Terex Environmental Shredders, the TDS V20 on the Molson stand OA141 and the TDS 820 on the Warwick Ward stand 5R150-S151.
The Airhog EH-81 Hungrier for Even More Waste! 
The Airhog EH-81 is a suction system designed for the removal of low value light weight fractions such as paper, plastics and foil from applications including compost, wood and other waste streams.
The Airhog incorporates a frequency controlled heavy duty fan, air hose and extraction hood. The extraction hood is positioned over a moving waste stream (conveyor belt), the light weight material is blown through the extraction hood into a detachable sock or bin and the remaining higher density material continues to pass on the conveyor to the required resting place.
The standalone unit is designed with forklift lifting points and lifting eyes for craning to ensure ease of movement. The unit can be designed to fit any conveyance system.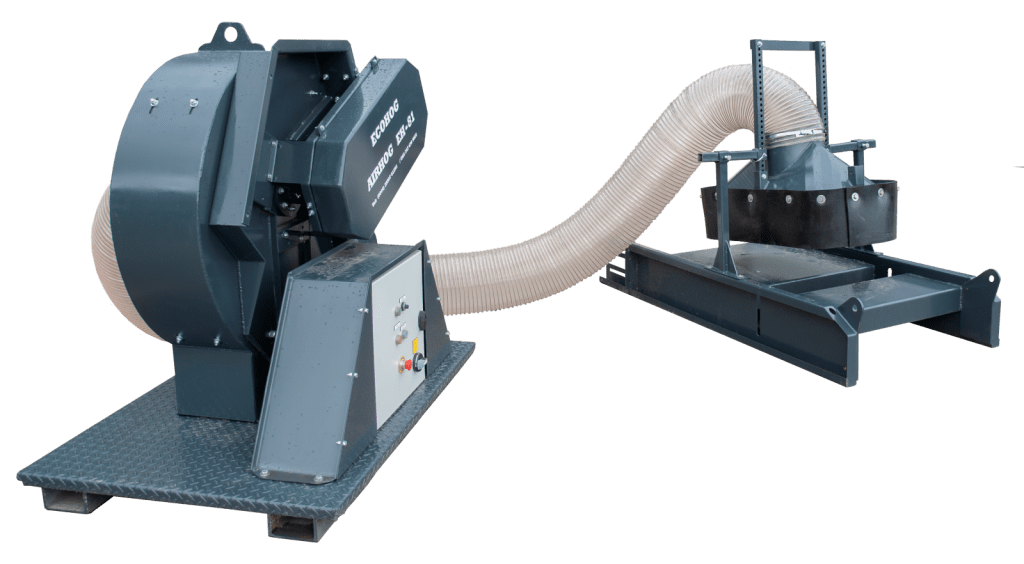 KEY FEATURES
• Suitable for a wide range of applications
• Removes unwanted contaminants improving quality downstream
• Reduces the need for manual sorting
• Adjustable electronic fan speed controls
• Adjustable fittings suitable for various locations in the existing processing facility / setup
• Designed for movement via forklift
• Low operational costs
• High throughput
• Low maintenance
• Quick and easy setup
• Low emissions and noise outputs
SUITABLE FOR
• Compost
• Waste Wood
• Trommel Fines
• Glass Clean Up
• Incinerator Ash
• Gully waste