Ecohog delighted to be recognised as Platinum Level Innovator by Innovate NI
Innovate NI is a Department for the Economy programme which helps local businesses throughout their innovation. Innovate NI is delivered by Invest Northern Ireland, local councils and further education. The Innovation Accreditation Programme was launched by the Department for the Economy to encourage companies with innovation led programmes helping them along the way.
The award focuses on how companies have followed the Innovation framework successfully including generating new ideas, developing and testing your innovation, launching it to the industry, and creating value for both the company and customers.
Ecohog have been recognised due to its ongoing investment in R&D, designing and manufacturing innovative separation solutions for waste processors globally, and their recent KTP Project with the South West College.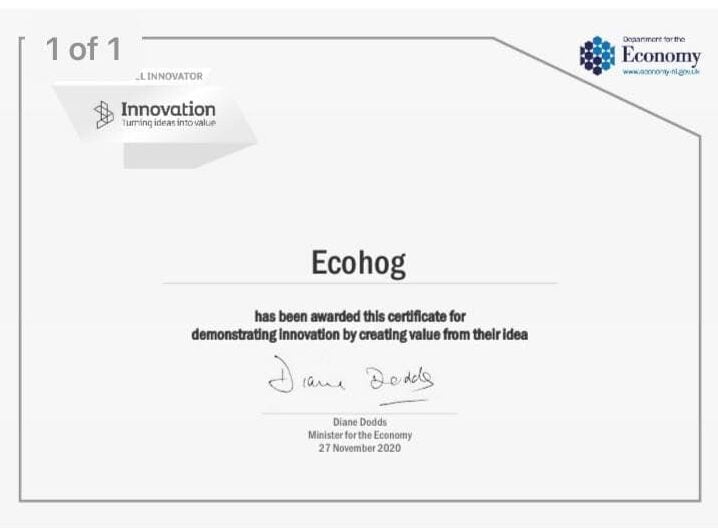 Ecohog are delighted to receive the Platinum Level Innovator award for recognition of their team's hard work. Operations Director Sean Dobbs commented, "Ecohog have a strong, inherent focus on innovation and are a very dynamic and strategic business with the ability to pivot quickly. This fact combined with a strong and continuous drive on truly game changing innovations, has meant that Ecohog have been one of the fortunate companies in this challenging climate and had a successful year despite all the micro and macro-economic factors experienced in 2020. We continue to push this continuous and compound innovation through into 2021 with a strong development pipeline already in place. We are honoured and delighted to receive this independent recognition and validation of our relentless focus on bringing the market the most efficient and effective ways to solve their complex problems. By challenging norms and the status quo to bring the customer the right and best solution, in the most cost-efficient package. For us our new products have definitely helped maintain business continuity throughout the challenges of 2020. We look forward to 2021 with optimism and excitement; despite further imminent challenges associated with Brexit. Northern Ireland is truly world class businesses with a high degree of resilience. So I am confident we will all overcome and exceed any challenges faced in 2021".
Ecohog have worked with South West College on a number of innovation supports. Nicola Quinn, Business Development Support Officer, stated "South West College are delighted for Ecohog on achieving the Platinum award.  We are proud to have a collaborated with such an Innovative and forward thinking business such as Ecohog through various funding programmes such as Innovation Voucher projects and a Knowledge Transfer Partnership.  Our relationship has grown from strength to strength over the last numbers of years and we are very excited for the future for this competitive and dynamic business".
Knowledge Transfer Partnership (KTP) Product Design Associate Megan McLaughlin is employed by South West College as the Innovate UK KTP working on a year project with Ecohog focusing on the development of a game changing new product for the waste processing industry. The course is based on R&D within the waste and recycling industry. Megan said, "I am delighted to be a part of the Ecohog team, being recognised for the Innovation led award highly commends our hard work throughout the years. The KTP project has provided me with an insight to the full circle of product development including; R&D, concept development and marketing the product for launching into the market".
Ecohog are delighted to receive this amazing recognition which is testimony to their ongoing focus on achieving innovative solutions to waste separation issues. Building on over 30 years of industry experience and applying the latest technological advances has assisted the company to lead the way in addressing waste sorting challenges globally. With many exciting plans underway and new products to launch, Ecohog are looking forward to 2021 with lots more in store.