ISRI 2023 – Come see Ecohog at Booth A5
Scrap metal and waste management manufacturing experts, Ecohog, are attending the ISRI Exposition in Nashville on April 17th & 18th and this year, the highly sought after THM ECS-2000 Tracked Hogmag Eddy Current Separator will be centre stage alongside a team of Technical Sales Advisors.
The Original Alpha, HogMag Eddy Current Separator makes recovery of ferrous and non-ferrous metals in large volumes effortless. Teamed with the Ecohog Recon Q, the combined scrap metal downstream recovery setup complements a wide range of scrap processing equipment such as hammermills and shredders to achieve a high quality recovery of scrap waste streams including UBC, car frag, incinerator ash, WEE, shear press drop and slag recovery.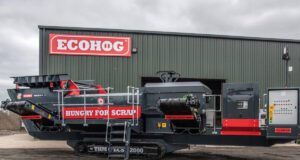 Ecohog have long since established their status as a pioneering force in the scrap metal and waste management industries, providing a full range of air and magnetic separation equipment in static, modular and tracked versions with optional hybrid features for seamless integration into existing and new scrap processing facilities. In a fast paced industry, research and development are at the forefront of designing innovative equipment to tackle separation issues, solely providing processing solutions.
In addition to the core products, the EH-81 AirHog is a great add on to tackle unwanted light fraction contaminants such as paper, plastics or foil to improve quality downstream whilst keeping manual sorting to a minimum, and in some cases eradicate altogether. Ecohog have recently introduced the DCS de-dusting system to their auxiliary range for managing unwanted air borne particles within processing facilities. The vacuum system purifies the air through filtration, containing dust particles in an enclosed chamber, providing a dust controlled facility.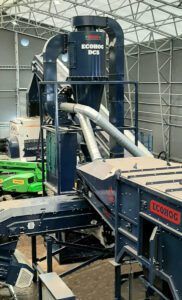 Declan McNally, Technical Director of Ecohog comments "This year we stand proudly with our new distributor Ecohog America who are based in the US. This is great news for our US customers in terms of the level of support we are known for. We are excited to show the crowds at ISRI what Ecohog can offer in terms of modular, static and mobile solutions for the scrap metal recycling industry." With the increasing presence of recycling related legislation in the US and indeed globally, its vital to show just what is possible regarding clean product recovery, performance, efficiency, environmental benefits and profits. The Ecohog product range can do just do that". Declan further commented, "We spend time listening to customers and working together to design innovative technology to service the sector as every processing operation varies regarding pain points. We look forward to welcoming scrap processors to Booth A5 at ISRI to showcase our industry knowledge, innovation and solutions."
For further information on our products visit https://ecohog.com/products/ and if something is of interest to you then we welcome you to come see us at Booth A5.