Global Recycling Day 2023 – Shining the Spotlight on the 'Seventh Resource'
Shining the Spotlight on the 'Seventh Resource for Global Recycling day. Let's get real about the health of the planet and the role we play in it. And there is no better day than today – 18th March – Global Recycling Day. It is 5 years since the launch of Global Recycling Day as an official United Nations day – thanks to the Bureau of International Recycling and United Nations Industrial Development Organisation.
With ever-increasing markers of climate change and as all of the Earth's natural resources (water, air, oil, natural gas, coal & minerals) are drained at an alarming rate, it is evident that we must focus on the 'Seventh Resource', now more than ever.
Seventh Resource is precious too
'Seventh Resource', commonly referred to as recycling is the (mostly) untapped resource at our disposal. And it is a resource that we need to change our opinions on. If we are really honest, we would admit that recycling conjures up ugly images of wasteland that smells and looks unpleasant. However, beneath the rough, are diamonds capable of powering the entire globe and taking the pressure off our precious first six resources (pun intended!).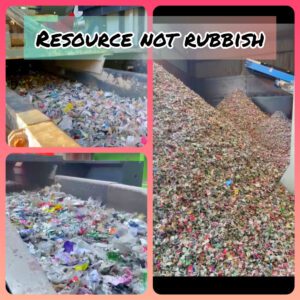 So why should we spotlight the Seventh Resource on  Global Recycling Day?
– Recycling material supplies only 40% of global raw material needs.                           Source: https://www.bir.org/the-industry
– 91% of plastic created IS NOT recycled according to "The Production, Use, and Fate of all Plastics Ever Made" – Science Advance
– Global Recycling Foundation (BIR) Manifesto states that worldwide, we dump 2.12 BILLION TONNES of waste every year
– Based on study conducted by the Bureau of International Recycling, recyclables save over 200 million tonnes in CO2 emissions every year – that offsets the CO2 emissions of the aviation industry each year
– Bureau of International Recycling reports that 600 million tonnes of recyclables are handled every year
– OECD Environmental Outlook to 2030 reports that 55 billion tonnes of bio-mass, fossil energy, metal and minerals are extracted from the earth every year. That's almost 10 tonne on average for every person in the world!
– 572 million tonnes of CO2 is saved by secondary production of just 3 metals (Aluminium, Copper, and Ferrous), compared to primary production. Source: BIR study on the environmental benefits of recycling – 2016 edition
Given that we have used more resources in the last 50 years than in all previous years on record, it is imperative to redefine recycling as a commodity in its own right just as water, and air for example.
Recycling as a business
Let's get down to brass tax – the recycling industry isn't just a replacement for natural resources. It also has huge employment and economic benefits. There are at least 1.6 million people active in the recycling industry globally. Moreover, it is estimated that around 20 million people are engaged with the recycling industry informally.
Financially, it is most certainly viable. Globally recycled plastic material was valued at $48.58 billion in 2021 and is projected to surpass $77 billion by 2028! Source: https://skyquestt.com/report/recycled-plastic-market.
Metal recycling, in particular is the gift that just keeps on giving in regards to revenue – it can be recycled over and over indefinitely – never losing value and every time it is recycled it saves on CO2 emissions compared to primary production.
It is reported that as of 2022 the value of the metal recycling market industry reached 50,033.98 million USD and is expected to reach 88,500.70 million USD by 2030.
(Source: https://www.marketresearchfuture.com/reports/metal-recycling-market-2201).
As demand from the construction industry continues to rise over the coming years, so too will the demand for steel.
Some of the these statistics seem impressive on paper – but we are not even remotely close to utilising recycling to its full potential – as a resource, lifeline to the planet, or as an industry. So what's the answer?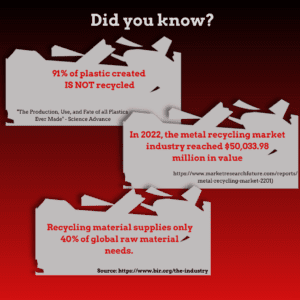 Strengthen the Seventh Resource as outlined by Bureau of International Recycling
As an individual there are a number of ways you can help:
– Dispose of any items properly so it can be recycled
– Know your local waste management policies and implement them correctly
– Educate yourself on what happens to your recyclables when they are taken away
– Reuse, repurpose and recycle as much as you can before sending anything to recycling or landfill
– Commit to producing as little waste as possible
– Commit to making recycling friendly decisions and understand what brands help you do so
– Educate yourself on your government's local recycling legislation and challenging it if required – does it do enough to create change?
The BIR have set out a number of challenges for global leaders to meet in order to truly make the most of the Seventh Resource. It is up to our society as a collective to keep building momentum on the demand to;
– create more recyclable products
– use products that are recyclable
– reduce our single use mind set
Are you in the waste processing business or considering it?
Ecohog Ltd may be able to help with our extensive range of bespoke Air Separation and Metal Separation Equipment that can be exported globally and comes with exceptional aftercare and customer service. Visit https://ecohog.com/products/ for more details.  Our products have the ability to separate a range of applications such as;
– Scrap Metal
– Construction Waste
– Oversize/undersize compost
– MRF Glass
– C-Mix
– Incinerator Ash
– Recyclable Biomass
For more information on these applications visit: https://ecohog.com/application-materials/