After a two year long wait ISRI Convention is back!  The largest scrap metal event in the recycling industry will take place March 21-24, 2022, in Las Vegas!
The Institute of Scrap Recycling Industries Inc. (ISRI) is the Voice of the Recycling Industry. ISRI 2022 features approximately 1,300 companies in 21 chapters in the U.S. and 34 countries worldwide that process, broker and consume scrap commodities, including metals, paper, plastics, glass, rubber, electronics, and textiles. This is a great opportunity to meet with thousands of industry professionals and to find out more about the latest equipment dominating the recycling market. It's an opportunity to get up-to-date with the key industry issues and to gain a better understanding of the recycling industry.
Ecohog Ltd provide Waste Separation Solutions
Ecohog's Senior Technical Engineer, Declan McNally states, "We are thrilled to be back face-to-face at ISRI 2022 Convention in Las Vegas. This is a significant event for the recycling industry and we are delighted to be exhibiting one of our products, the EH-81 Airhog.
Ecohog have been servicing the North American recycling sector since 2013, supplying a range of metal and density separation equipment to sectors such as Scrap metal processing, MRF glass clean up, oversize compost and RDF.  We are looking forward to meeting new waste management companies, building new relationships within the sector and providing waste separation solutions that will provide company benefits and positive impacts for climate change."
Ecohog are exhibiting alongside their North American Dealer, ELV Select Equipment
ELV Select Equipment are showcasing the self-powered Ecohog EH-81 Airhog vacuum air suction separator at ISRI Convention 2022! Ecohog will be at Booth #1115, where ELV and Ecohog Specialists will be on hand to advise and assist with any waste sorting queries. Ecohog aim to support its attendees in finding the right solutions for their waste needs to maximize output and return on investment.
ELV Select Equipment have been serving the automotive, metal & waste recycling industries with over 35 years of experience. Giving ELV Select's reputable stance in the industry and extensive knowledge of our products they will be on hand at Booth 1115 for the duration of ISRI Convention to answer your enquiries!
The Ecohog EH-81 Airhog
The Airhog EH-81 is an air density separator, attachable to moving conveyance system is designed for the removal of low value light weight fractions such as paper, plastics and foil. The standalone unit has forklift lifting points and lifting eyes for craning to ensure ease of movement.
The Airhog EH-81 is compact is size but delivers great results in removing unwanted contaminants to improve the quality of downstream material and ultimately reducing the need for manual sorting.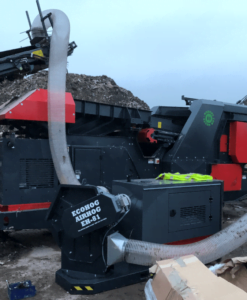 Come see us at Booth 1115!
Unable to attend the show contact Ecohog directly: https://ecohog.com/contact/
Enjoy the Show!