Women in STEM celebrate International Women's Day 2023
Embrace Equity and women in STEM for International Women's Day.  As the movement of celebrating women progresses, we must evolve from just equality for greater success.
This year's theme for International Women's Day #EmbraceEquity, does just that. It explores the idea that we need to look beyond creating equality. Equality alone is not enough – equity is essential also. But what is the difference I hear you ask?
Well, equity means to acknowledge that people start at different levels; physically, mentally, emotionally and psychologically. Even circumstances at home (I'm looking at you mothers; balancing work with children, cooking, housework, exercise, studying, self-care). These factors negatively impact our ability to access the equal opportunities afforded to us. It's not intentional (mostly) but that doesn't make it any less difficult to accept or to work around.
Let's embrace equity for Women in STEM for International Women's Day
Instead of women working harder to achieve the same goals as their male peers – with the right support and resources, they have the same probability to reach the same goals. For example…Jack and Jill have the same opportunity of access to a box from a shelf that sits high on a wall. However Jack is 6ft and Jill is 5ft 3 – therefore Jill stands little to no chance of getting that box unassisted. With something to stand on Jill is the same height as Jack, and she now has equity to reach for the same box as Jack.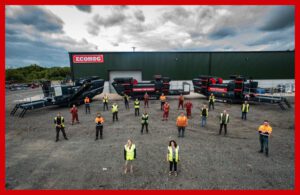 Women in STEM (or lack thereof!) 
As an engineering company, we especially see the need to embrace equity considering that STEM working environments are still severely lacking in female representation.
Engineering UK noted in their Women in Engineering report (Years 2010 – 2021) that in the UK, women make up 16.5% of all engineers in 2021 – compared to 10.5% in 2010. That's a 6% increase – progress but not nearly enough. Figures wise that meant in 2021 there were 936,000 female engineers compared to 562,000 in 2010. *read the full data report here https://www.wes.org.uk/content/wesstatistics.
Here in NI, the representation is something similar according to Pulsar (NI WOMEN IN STEM) at 15%. Embracing equity, busting stereotypes and breaking down discrimination will lead to considerable progress at making STEM careers more attractive and accessible to women.
Changing the landscape of STEM by embracing equity
So what steps should we be taking? Really it starts at education level – this is where the disparity begins. The number of girls entering STEM careers from education hasn't changed since 2008! More concerning, the Matrix Women in STEM report 2018 states that the decline in girls participation in core STEM before ages 15-18 is 65% compared to a decline of just 6% in boys.
Shaping mindsets of girls at a young age to understand the possibilities of STEM is crucial. This involves tackling the stereotypes and discrimination historically associated with the concept of women in STEM. This runs much deeper than we think e.g. what influences do young girls in primary school face?
Changing how young girls see themselves and their potential from this young age will lead to a huge shift in the landscape of STEM. They will be less likely to feel that STEM careers are out of reach because they have been educated to believe that they are just as capable as their male counterparts to pursue a STEM career.
Boosting the Economy by embracing equity and Women in STEM
The DfE Women in STEM Steering Group have an action plan https://pulsar.live/the-women-in-stem-action-plan/  informed by and contributing to the Department of Education's 'Skills for a 10x Economy' framework which aims at improving and development the NI skills system by 2030. It is an in depth and collaborative 4 step strategy designed to:

*Source: PULSAR (NI WOMEN IN STEM)
At Ecohog we are excited to embrace equity and women in STEM for International Women's Day. Lets see where this movement takes us as a society and ultimately what it means for the manufacturing and engineering industry in NI. We believe in the positive impact women can have on this business; in fact recently our MD Tracey McNally won the award for Best Small Business at the Women In Business NI Awards 2023. #WIBAwards23
With that said – if you or any girl or woman you know is interested in a career in Engineering or Manufacturing we welcome students to have their work placement assignments with us. We have a number of departments from Research and Development, Fitting, Welding and Painting that would provide invaluable experience within a team that is welcoming and encouraging. Email colleen@ecohog.com or call +442880761295 to discuss with the team. You will find all information about any vacancies we may have at Ecohog Jobs – Ecohog