2019 has brought new and exciting developments for Ecohog Ltd, the launch of the ecohog.com innovative and user friendly website and the investment of the Durma plasma cutting machine with Hypertherm XPR300. This investment has been partly funded under priority 6 (LEADER) of Northern Ireland Rural Development Programme 2014-2020 by the Department of Agriculture, Environment and Rural affairs and the European Union.
About the Durma Plasma machine
The Durma PL-C 25120 has a table size of 2.5m x 12m and with the new generation XPR 300 plasma source from Hypertherm. Capable of piercing and cutting 50mm mild steel with a high-quality finish and up to 80mm mild steel with an edge start, the entire machine ensures faster and cleaner cutting.
The machine is supplied with the Durma Aurora plasma control unit which consolidates all cutting needs into a user-friendly graphic controller covering all cutting aspects including consumable library, tech tables, and the patented Hypertherm "True Hole" technology. The Metalix CAD/CAM software supplied with the machine ensures a seamless transition from design software to manufacturing processes which can include modules such as Job Tracking, Job Costing and even integration into existing ERP/MRP systems.
The Benefits for Ecohog
The machine has a dust extraction system which keeps dust and smoke levels to a minimum and allows easy part recovery from the table.
This investment also produced the creation of new jobs in-house, improved long lead times and quickened the factory line. Due to Ecohog's high sales demands this new High-Tec machine will heighten quality output.
Tracey Mc Nally, Managing Director of Ecohog commented "We are delighted with our recent investment in a state of the art Durma Plasma Cutter, as a growth export focused company the technology has enabled us to significantly increase our product output, ensuring a better quality finish on our equipment. As a result we have been able to increase product sales globally and employ additional staff.   "
Byron Gueffroy, the spokesman for Spectrum Machine Tools explained that the process from tender to final sign-off was an absolute pleasure and management and staff at Ecohog where model customers and he looks forward to many years of working together in the future!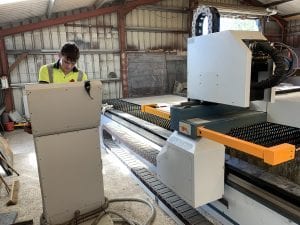 Due to Ecohog's high sales demands and this new High-Tec machine has and will continue to heighten quality output and reduce lead times.
For more information on the Ecohog Product Range visit the product page.