Ecohog are delighted to announce that the Ecohog EH1500-SM1 windshifter has been awarded the Gold Medal of the International Trade Fair for Environmental Protection in Poznan Poland. The Gold Medal Award is a recognition of the modernity and innovative technology, identifying machines with unique designs and features, manufactured to the highest specification and with a proven track record of high performance levels in their fields of operation.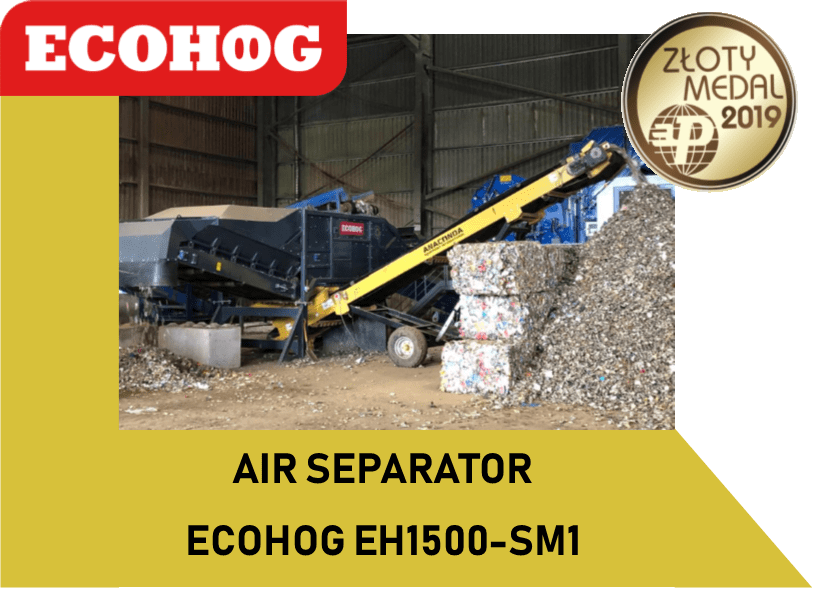 Raising the bar in RDF/SRF Separation
This reputable Polish Trade Fair Trophy is a prestige award gifted to equipment that stand out in the market as a result of their qualitative, technological and utilitarian values. The EH1500-SM1 windshifter is currently operating in RDF/SRF production from municipal waste, achieving in access of 98% separation efficiency.  The unique high powered fan technology ensures quality separation of heavy from light fractions. In Poland the EH1500-SM1 windshifter is processing material with an input fraction size of 20-80mm pre-screened and a composite of 100kg/m³ in density.
Commending the EH1500-SM1 windshifter, Ecohog's Polish distributor Agrex Eco nominated the machine for the Gold Award. Tristam, Ecohog Sales Director commented, "We'd like to thank our Polish distributor Agrex-Eco for securing the prestigious POL-ECO-SYSTEM Gold Medal award for our EH1500-SM1 Windshifter. We have been working closely with Agrex-Eco since last year and continue to be impressed by their dominance in the Waste and Municipal Recycling sectors. We look forward to continuing joint success for the long term future."
Suitable applications for the Windshifter
As well as RDF/SRF, the Ecohog is suitable for a range of applications including, Compost, MRF, Waste Wood, C&D/C&I and Incinerator Bottom Ash. Compact in design the site unit enhances quality of production with the option of tailoring the machine to facilitate the customer's application and onsite setup, making the EH1500-SM1 windshifter the perfect solution.
We would like to extend our congratulations to all the other Exhibitors whose products have also been awarded.
For more information on the Ecohog Product Range visit the product page.