MATEXPO is a biennial international trade fair at Kortrijk Xpo in Belgium. As the third largest trade fair of its type in Europe, it has an established reputation and receives more than 40,000 visitors.
Attending the MATEXPO Exhibition? Van Laecke are giving you the chance to see our equipment.
Belgian dealer Van Laecke are showcasing the infamous EQS-1200SM-3 Quality Control Cabin. This innovative Mobile Picking Station offers waste processors the opportunity to maximise product quality recovery capturing up to 8 materials. The EQS-1200SM-3 incorporates a dual action blower and an air density separator Airhog for 2 stage super light fraction removal. The 3 bay heavy duty insulated cabin offers up to 6 manual material collection points and features a powerful overband magnet for additional Ferrous metal recovery. The hydraulically operated mobile chassis ensures ease of transportation with adjustable operating heights. This mobile waste picking station is undeniably a cost effective all in one machine providing excellent waste sorting with a small site footprint, convenient for onsite use with downstream mobile plant.

The EQS-1200SM-3 is exceptional in the following waste streams with a proven record of maximising quality material output for waste processors:
Skip Waste processing
C&D/C&I
Scrap Metal quality control
MSW
Landfill Reclaim
MDR
RDF/SRF
Aggregate recycling
Moreover, Van Laecke will be showing an Airhog EH-81 mounted to a Terex Finlay 883+ on the stand to highlight how diverse Ecohog's equipment truly is with the ability to adjust to existing equipment. The Airhog EH-81 is an air density separator designed for the removal of low value light weight fractions such as paper, plastics and foil. The standalone unit is designed with forklift lifting points and lifting eyes for craning to ensure ease of movement.
The Airhog EH-81 is a great addition to your site as it removes unwanted contaminants to improve the overall quality downstream with a reduction in the need for manual sorting. The Airhog excels in the following waste streams:
Compost
Waste Wood
Trommel Fines
Glass Clean Up
Incinerator Ash
Gully waste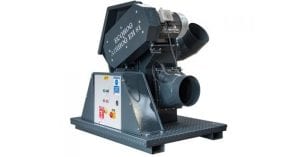 With a proven high throughput for minimal operation costs you would be making a mistake not going to see this machine.
Van Laecke Group is a family-owned SME with years of experience and expertise in specialized machines for the recycling, construction and agricultural sector. Giving Van Laecke's reputable stance in the industry and extensive knowledge of our products they will be on hand at Stand B12 for the duration of MATEXPO to answer your Ecohog enquiries!