This Year Marks the 46th Year of World Environment Day
World Environment Day has been celebrated on the 5th June every year since 1974 engaging with people worldwide to focus on the environmental issues. This year the theme is biodiversity. Our nature reserves are at risk, especially with recent bushfires and the global pandemic, nature is sending the world a message (World Environment Day, 2020).
World Environment Day is significant to Ecohog as we supply equipment to the waste and recycling industry, minimising waste thus protecting nature.  Ecohog's ethos is helping the environment as best we can, a nation together cleaning the world for our children. World Environment Day is important as to care for ourselves we must care for nature (World Environment Day, 2020).
Ecohog's air and metal separation product range helps the environment in many ways including; reducing the amount of waste being sent to landfill and recovering materials that can be re-used. Ecohog are air and metal separation specialists assisting clients to maximise their waste applications while protecting the environment all year round. Ecohog's product range cleans and recovers valuable materials providing clients with a profitable, re-saleable end product.
Ecohog's HogMag Eddy Current Separators both static and tracked versions are fantastic for recovering ferrous and non-ferrous materials from many applications including waste wood, scrap metals and glass cullet. Focusing on nature the HogMag Eddy Current range is commonly used in the waste wood industry. Essentially the more wood that is recycled the less trees that are needed to be cut down.  Ecohog's Airhog Suction System and Windshifter range removes the light and superlight fractions from an application such as; compost and waste wood. A combination of these machines creates a higher quality end product.
Below is our Tracked Eddy Current Separator (THM ECS- 2000) removing metal from waste wood fines.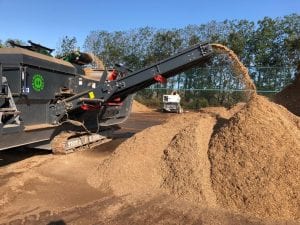 Ecohog's Airhogs and both Tracked and Static Windshifters are incredible machines for removing tricky light contaminants. The Airhog and Windshifter range separates a wide range of applications including; glass, plastics and compost separating the light and heavy materials depending on bulk density. This process results in less waste being sent to landfill reducing the impact of waste on the environment for our natural resources preventing pollution which can harm both our health and nature.
At Ecohog we promote the 3 R's of Reduce, Re-Use and Recycle both in our workplace and our homes. Recycling can help our world's natural resources. According to Friends of The Earth, 2018 recycling paper and wood saves the forest and many trees from being cut down. Recycling our plastic resources means creating less new plastic. Recycling our metals prevents the need for risky and expensive mining extractions of new metal ores. Recycling glass reduces the need for using raw materials such as sand as these supplies are getting scarce around the world.
At Ecohog we ship our equipment globally using as minimum packaging as possible. We do our best in preventing the use of extra, un-needed packaging to help reduce the environments waste problem. We are dedicated to researching and implementing how we can make our business more eco-friendly.
Ecohog's Airhog Suction Systems, Windshifters and Eddy Current Separators are always Hungry for Waste! Ecohog encourage the public to remember the 3 R's Reduce, Re-Use and Recycle. Not only today but everyday keep making those positive changes, however small you too can help the environment and provide a healthy future for your children.
During this global pandemic, take time to breathe the fresher air and enjoy the simple things our nature environment provides us with.
Together we can act #ForNature